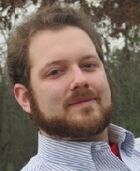 Stephen Perkins is an actor and singer from Knoxville, Tennessee. Originally from St. Louis, Missouri, Stephen began acting in middle school, playing leads in Christian Sunday School videos and bad 1-act murder mysteries.
After acting on and off throughout high school he attended Wabash College. There he spent 4 years as an on-air DJ at WNDY, the school's radio station. He also served as General Manager of the station for 2 years.
Stephen moved to Knoxville, Tennessee after college and has begun acting on stage again. Acting roles include Otis Baker in The Andersonville Trial and Algernon in The Importance of Being Earnest. Singing roles include JB Biggley in How to Succeed in Business Without Really Trying and Roger Sherman in 1776.
Star Trek has been a major part of Stephen's life ever since he was a kid, falling asleep watching new episodes of Next Generation with his dad.
Steven Perkins portrays Commander Darius Locke